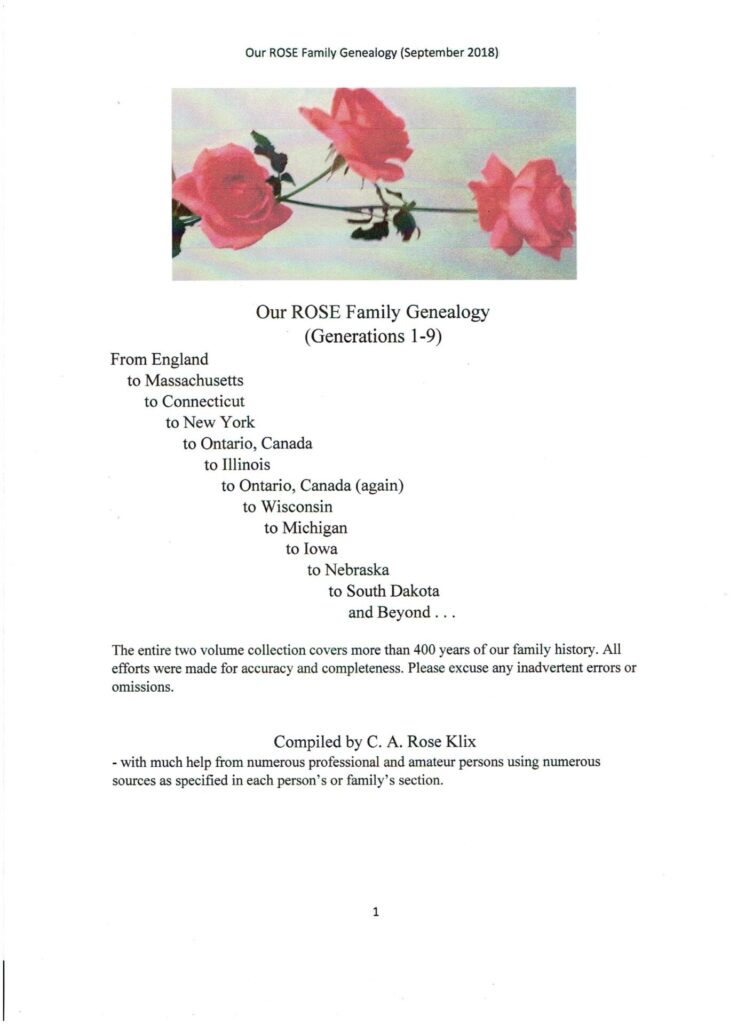 I compiled the first nine generations of Our ROSE Family Genealogy. In 2018 I shared copies of the compilation in two-inch binders with my known relatives. As of that research, our youngest Rose descendant is the fourteenth generation from our immigrant grandparents Robert and Margery Rose (both b. circa 1594 presumably in England). They and eight of their ten children immigrated on the ship Francis from Ipswich, England in 1634 to Branford and Wethersfield, Connecticut. My family descends from their son Daniel Rose (1631-1711). He was a three-year-old immigrant to America!
My brother Jim Rose's Y-DNA from familytreedna.com helped me find where we fit within the Robert and Margery Rose lineage. I'd been subscribing to the Rose Family Newsletter for many years. But until his DNA matched others in Christine Rose's book Descendants of Robert Rose of Branford and Wethersfield, Connecticut my research was stalled. Christine researched all those with the surname Rose and not just Robert Rose. Obviously, I am not related to all Roses. Because most of my online research currently centers around ancestry.com I've also submitted my DNA to them for matching. However, female DNA is not as conclusive as male Y-DNA.
One day I hope to compile my research for all four of my grandparents' lineages into similar 'books'. I'm certain of all of my sixteen 2nd great-grandparents. Two of them are currently brick walls (Andrew P. Lee [b. 1805/08 – 1865] and possibly James Bailey [b. 1789). One day I may punch through to open up more of my lineage.
My genealogy in paper form is pictured below. The dark-blue 3.5-inch binder on the upper shelf contains information on most of the surnames in my pedigree. The unlabeled 3.5-inch binder on its left contains an attempt at my full lineage files in tree format. The furthest ancestor appears to be my 45th great-grandfather King Gebicca of Burgundy born in about 0390 and ruled in the 4th century AD. His descendant is my 3rd great-grandfather' Talmon Rose through his mother Rebeckah Miller.
Not all my research has been perfectly proved and documented, but I only have 24 hours each day!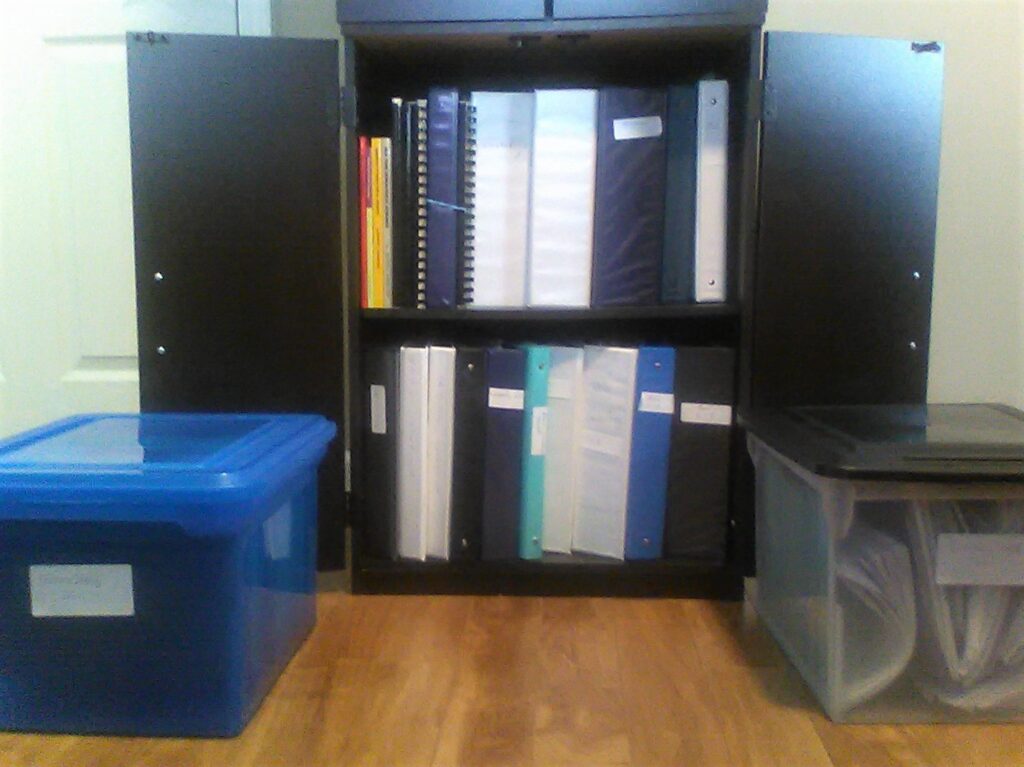 Genealogy Works-In-Progress for my three other grandparents' surnames and lineages:
Our SWINEHART Genealogy (Original German spelling SCHWEINHARDT) This will be compiled from my maternal grandfather Orion Wyant Swinehart back to my 8th great grandfather Conrad Schweinhardt.
Our OLMSTEAD Genealogy (Also spelled OLMSTED, OLMSTEDE) This will be compiled from my paternal grandmother Gertrude Grace (OLMSTEAD) ROSE back to my 21st grandfather Martin De Olmstede. Much of the Olmste(a)d, Olmstede genealogy has already been professionally researched and recorded.
Our DEGEEST Genealogy (Also spelled DE GEEST, VAN DER GEEST, ZEELAN, GERRITSEN, and PETERS.) This will be compiled from my maternal grandmother Jennie Grace (DeGeest) Swinehart back to my 7th great-grandfather Gerrit Peters.
Website copyright 2010-2024 by Rose Klix inclusive of all pages and posts.