By publishing her two-volume set Pastiche of Poetry in 2012, Rose commemorated writing poems for more than 50 years.
Pastiche of Poetry, Volume I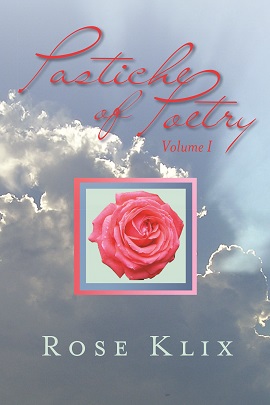 Note: A Concordance of subjects is included in the back of Volume II inclusive of both volumes. Purchase the books separately or complete your set by buying both volumes.

Synopsis: In Rose Klix's two-volume collection of poetry, many of the poems published in Pastiche of Poetry, Volumes I and II were award-winning and previously published. This hodgepodge collection was written starting from her teenage years to her more mature era. She decided to celebrate fifty years of writing poetry and include them in two books. Poetry is arranged alphabetically by title.
Reviews:
"In this collection, Rose Klix's passion for poetry can be traced from her teenage years to the present. In this poetic journey, she releases her "baggage" of disappointment and loss, turning outward to celebrate subjects as diverse as the Native American Corn Mother Selu and the creator of modern dance Isadora Duncan. Her poems show the reader that poetry can inform, amuse, and inspire." – Gretchen McCroskey, author of Finding My Way Home
"With creative license Rose Klix uses life's joys and travails to express tongue-in-cheek humor, wistful memories, and points of view to ponder. Today, find the time to wander through a poetry garden created from Rose's heart." – Carol C. Jackson, author of My Way , My Way II, and Georgie the Gifted Giraffe
"Moments of Meaning" may best describe the poetry of Rose Klix as she shares her lifelong journey in this book. Rose brings each reader moments of joy, sadness, perceptions, dreams, humor, and pain. You
will be surprised. When you desire feeling, you need to share these moments that Rose has captured so beautifully." – James D. Collier, author of Seeds of Wonder Poetry for the Mind That Lives
Pastiche of Poetry, Volume II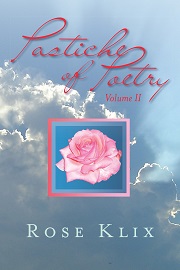 Reviews: "What is Rose Klix about? "I planted roses once again. They root. I tend to move on." Pastiche of Poetry, Volume II" is a continuation of her lifelong journey spanning five decades of verse. Rose's life story is rooted in this 'hodge-podge' journal of poetic accomplishments. Her intuition prunes the random branches of daily life into a shaped surety. This accessible collection provides readers with an insightful poem-a-day stroll through an eclectic rose garden of verse." – Janice Hornburg, author of Perspectives
"Pastiche of Poetry, by Rose Klix, follows one poet's journey over fifty years of writing, encountering poems of loss, frivolity, and nearly every emotion in-between. Using numerous formats and styles, Klix's Pastiche of Poetry Volumes I and II introduce her readers to many new faces and forms of poetry, many of which have placed in contests nationwide. In 'Ode to a Telephone,' she simultaneously celebrates the gifts of technological communication, while reminding readers of the irreplaceable and priceless wonders of human interactions. The tenderness and ensuing strength in 'Pruning Rose' bring tears of hope and admiration. And the lovely 'November Fall' reminds us, ' . . November/leaves hold on until/their forever./I will,/ too.' Readers are in for such a treat with this touching and delightful volume; Klix offers something for everyone here." – Chrissie Anderson Peters, author of Dog Days and Dragonflies
Rose Klix calls her book of poems a potpourri. It's more than that. It is a celebration of this wonderful world. Here are poems of wit and wonder, always cast in humor and optimism. Even cancer and divorce cannot suppress her exuberant spirit. She remembers and honors her parents in "'Squeet and Twirly.' The 'Roaring Twenties' captures a historical era. "Peace Chief"' honors a little known eighteenth-century Cherokee chief. And she welcomes spring with a sneeze. Read and enjoy." – Nancy M. Fisher, author of Vision at Delphi and Flame Dancer
Website copyright 2010-2021 by Rose Klix inclusive of all pages and posts.