By Rose Klix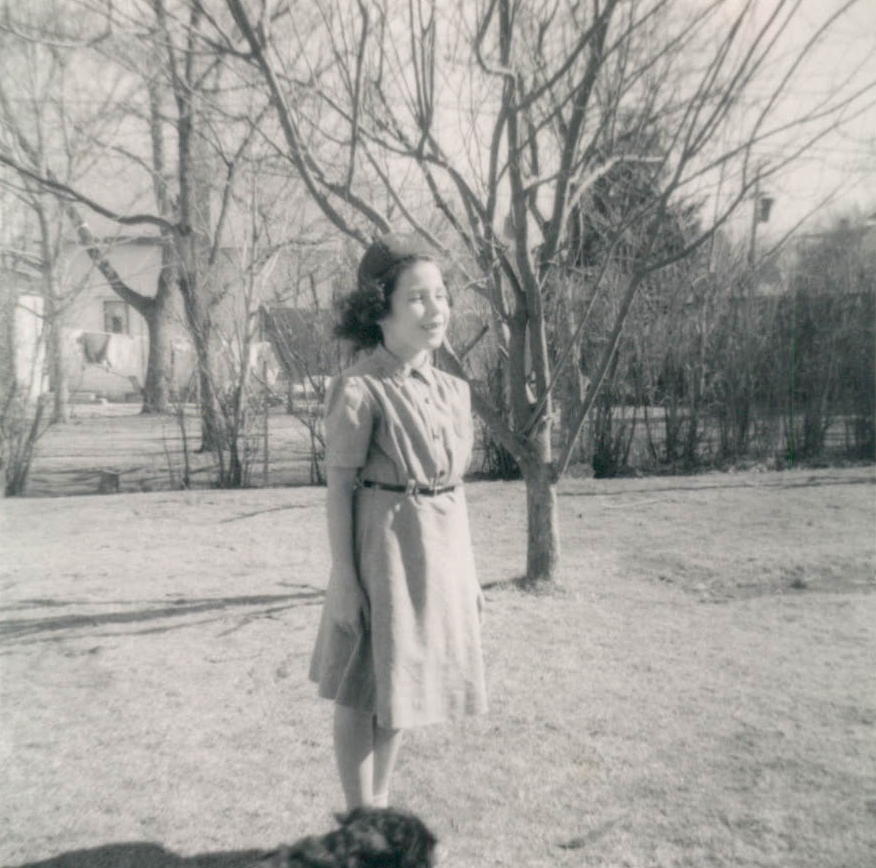 Me as Brownie Scout in 1957
Aunt Myrtle led Jim's Cub Scout den when we lived on New York Street. Even after we moved to Cleghorn Canyon, Mom drove him back and forth to the previous neighborhood. He continued to attend his weekly meetings. When we moved to Columbus Street, Mom became Jim's Den Mother.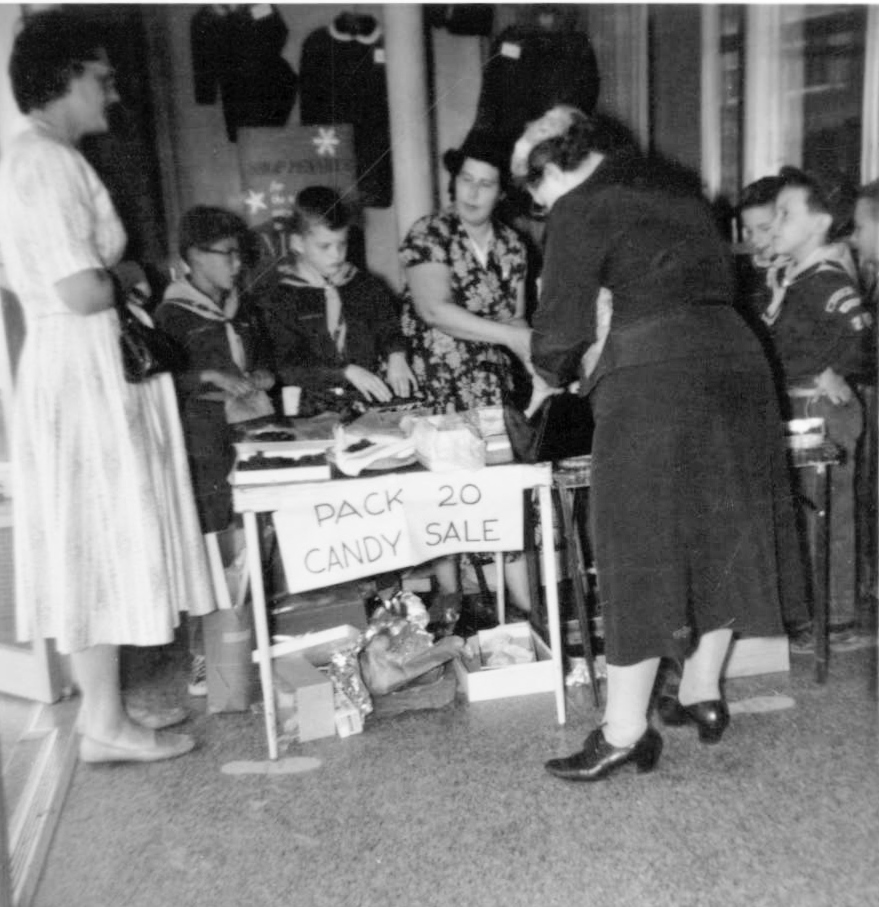 Mom in flowered dress; Jim 2nd from right
Captain Glenn's Fun Wagon on local TV scheduled Jim's den to appear. Because I rode along, the producers put me on the show. Jim grumped, because they included his little sister. Captain Glenn introduced me to his audience and laughed about me being a Cub Scout too. I sat on his lap when he asked, "What do you want for Christmas?" For my TV début, I said, "A bride doll."
Being little sister, I played the Cub Scout games, made crafts, and participated in many of their activities unless they rough-housed. Often Mom's scout programs did double duty when she combined the boys' Halloween party and Christmas caroling with her newly formed Brownie troop. Once Jim went into Boy Scouts, Dad took over as Boy Scout troop leader. However, Jim got out of scouts much faster than my turn as a Girl Scout. Instead, he became involved with the high school drill team until Mom denied permission for him to go on a team trip.
In September 1957, Mom first became my Brownie Scout leader at Cleghorn Canyon School. After the move in January 1958 to Columbus Street, her scouting "career" truly began.
At first I liked being a brownie scout. We had a little ceremony meant to teach self-reliance to the new member. Mom decorated a mirror for a pond with greenery to represent a wooded scene and narrated a story about a little girl asked to help with family chores. Her grandmother tells her a brownie will help once the girl finds her. She tells the girl to go to the woods, stand by the pond, turn around three times and say, "Twist me, turn me, show me the elf. I look in the pond and see – – myself." After the ceremony the new Brownie is given a Girl Scout pin to be worn upside down until she learns the pledge, "On my honor, I will try: To serve God and my country, To help people at all times, And to live by the Girl Scout Law."

Mom is 1st leader in back; I'm 2nd girl on right
In the investiture we performed "Itsy-bitsy Spider" and followed the lyrics with hand gestures. At meetings and camp, we sang a lot of songs. Like most children we particularly liked songs with hand gestures, rounds, or ones with nonsense words. A few come to mind: "She Wears a G (spells out Girl Scouts)," "My Hat It Has Three Corners," "Bumblebee," "Merry-Go-Round," "Sippin' Soda," "Hinasaurarius," "On Top Of Spaghetti," "Five Little Ducks," "Hello, Hello," "I'm a Nut," "Little Skunk Song," "Found a Peanut" and "Little Green Frog." See a video of me singing "Little Green Frog" at https://www.youtube.com/watch?v=6Ck0_TCat-k
Mom bent over backwards to be really fair to the other girls. As a result I felt slighted. If she asked a question or requested a volunteer, she ignored my raised hand. Soon I decided not to raise it anymore; she didn't notice.
They grilled me on the Girl Scout pledge. Mom and Dad made sure I earned my badges after they drilled and tested me until both were positive I'd learned the requirements. No favors for their daughter. They taught me integrity. I still have my Girl Scout sash with the 37 badges I sewed on it.
Mom created a ceremony, where we literally crossed a bridge from Brownies to Girl Scouts. We continued into Junior and Senior Girl Scouts. Mom was always our leader; Dad helped.
Dad loved to take the troop camping. He could show off his survival skills he learned as a Master Sergeant in the National Guard. We dug a latrine, braided rope and also created a bridge over a creek. I sanded and sanded my driftwood art project until it met Dad's standards. Often he'd say, "Apply more elbow grease." The flag must be folded into a triangle without any red stripe showing. He taught us to march and make square corners, drilled us on flag ceremonies, and the correct way to handle the flag or retire the colors. Often community events asked our troop to present the flag at their gatherings.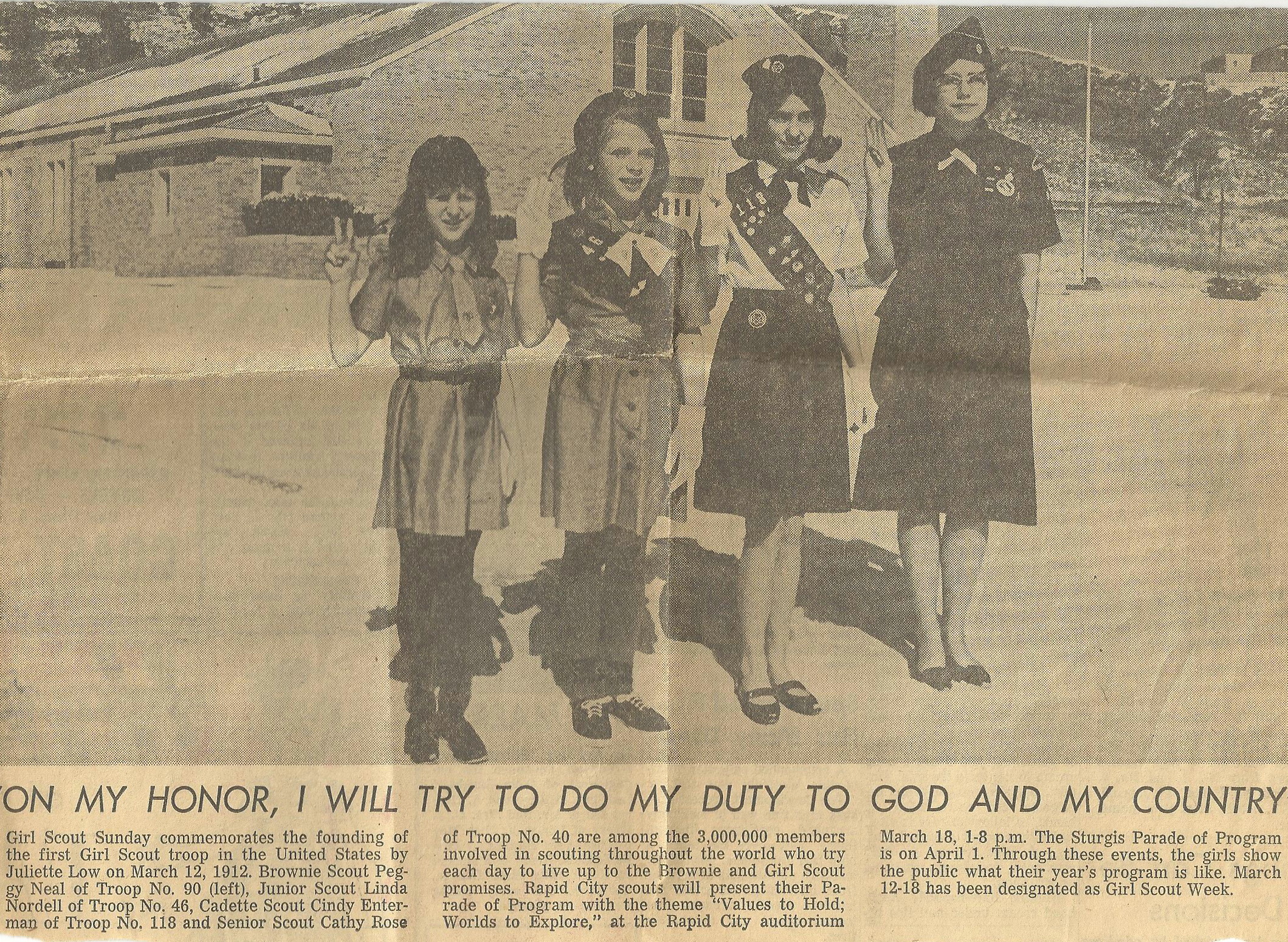 I'm Senior Girl Scout far right
After my high school junior year and much begging, I succeeded in quitting scouts. Mom continued with the troop for two more years without me – sort of. Not trusted to stay home alone, I traveled with them on their Yellowstone trip. Dad bought a used school bus; they painted "Ramblin' Rose" over the front windshield. We saw a moose. A few snowflakes in the air prompted Christmas carols in August 1967. We waited for the Old Faithful geyser to erupt. The other girls painted a sign to hold up in the back window, "Just Married." They laughed and waved at cars behind us. Oh, such games children play!
To be fair, I did glean a lot of knowledge and benefit from troop experiences. Because of Girl Scouts, I became a Junior Red Cross Volunteer (this is a story in itself) and a Museum Aide for the Minnelusa Pioneer Museum. I not only earned badges or pins, but these were wonderful opportunities for future career choices. I knew at age 14 I did not want to be a nurse, because I'd "worked" in hospital and nursing home settings. I enjoyed being Program Aid at camp and leading the younger girls, storytelling, and singing at other troops' meetings. As a result, I considered a teaching vocation.
For a short time when she grew up, Mom had been a Girl Guide. When Lord Robert Baton-Powell founded Scouting in the UK he intended it to be a boys' activity, but a significant number of girls wanted to join. His sister Agnes Baton-Powell founded Girl Guides. Juliet Gordon Low, the Girl Scouts founder, modeled her organization after them.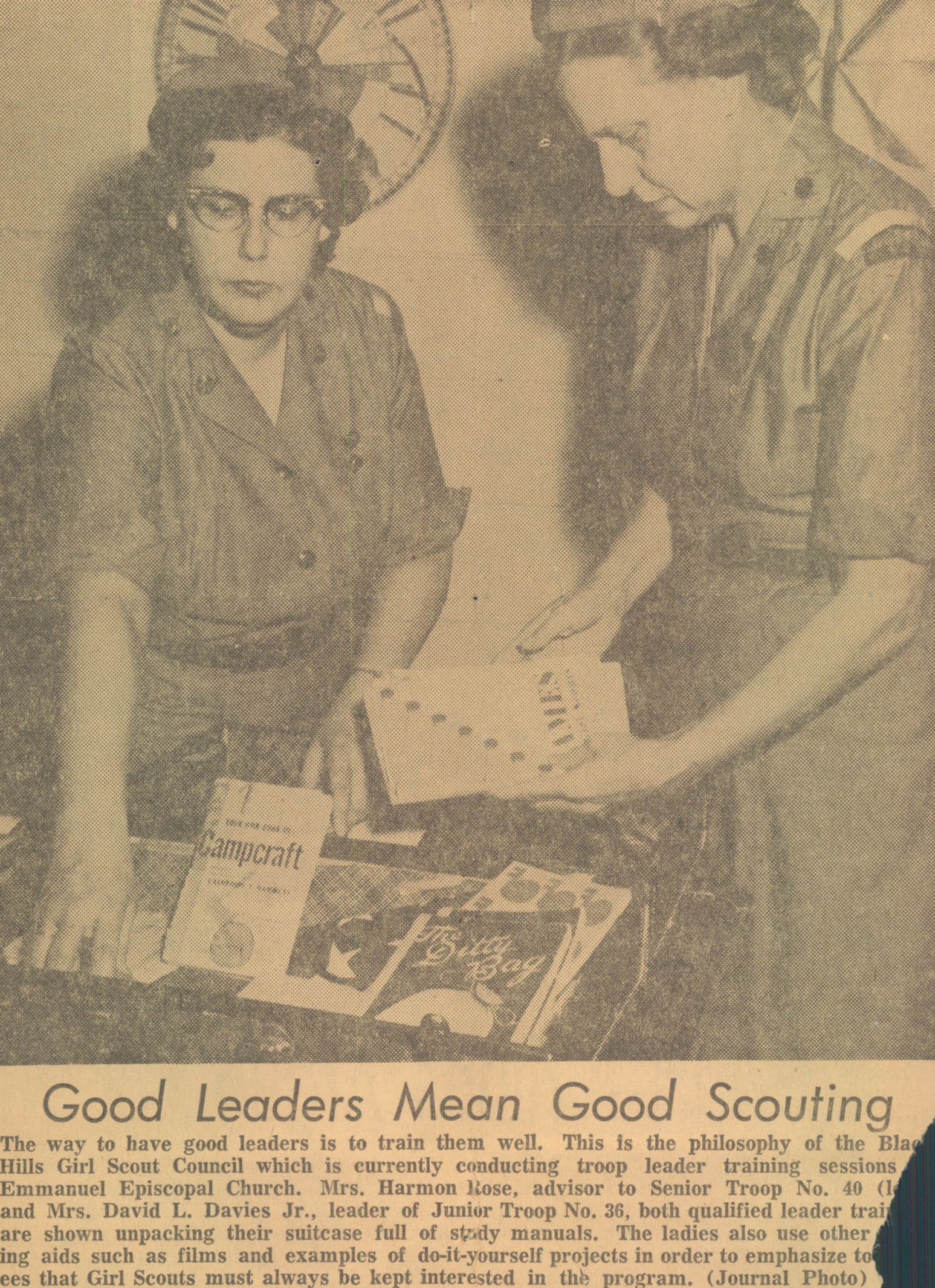 Trainers: Evelyn Rose (Mom) and Mrs. Davies
Scouting seemed to be more for Mom's development than for mine. Mom volunteered, not only as our troop leader, but a trainer for other leaders. Many nights, I tried to do my homework on a back table while I watched her teach. She took her role very seriously, developed her material, and professionally trained the new leaders.
She served as a neighborhood and district chairman for other troops and the area Day Camp Director. For another step on her Girl Scout journey the Black Hills Girl Scout Council appointed her to give leadership and direction to the Neighborhood Association. Mom applied to be the Girl Scout Executive for the region. She didn't quit when they didn't select her. She grumbled that the "old maid" Executive lacked experience, because she didn't have children of her own. The lady's Home Economics degree gave her extra points. Even in the late fifties and mid-sixties a college education gained a career ladder rung. When I wanted to go to Our Chalet in Switzerland, the Executive denied my application. Mom's attitude towards her possibly influenced the decision.
Once the last of Mom's troop graduated from high school, she resigned as leader. The Girl Scout Council asked her to be on the Girl Scout Board. She turned down the opportunity as she thought it would be "a pretty dull job after all the fun of scouting."
As our troop leader Mom really developed her own leadership and teaching skills as well as her self-confidence. For that, I'm glad she became my troop leader. Thank you, Mom and Girl Scouts, for providing me the opportunity to learn a variety of responsible adult skills.
(The above is an excerpt from Rose Klix's memoir "Petals and Thorns of This Lifetime." Please visit www.RoseKlix.com)