One of my favorite Thanksgiving memories happened in 1974. My husband and our 2 sons – Scott and Erik – traveled to Rapid City, SD to my parent's home.
The traditional meal was over for most all of us. Mom served our traditional fare – turkey with dressing, potatoes and gravy, sweet potatoes with melted marshmallows, hot rolls with butter, salad, pickles, olives, some green beans, vegetables, pumpkin pie with whipped cream. You probably recognize this fare with your own traditional table.
While I helped clear the table I noticed my 2- 1/2-year-old Erik still sat at the table with a smudge of whipped cream on his nose and upper lip. He grinned from ear to ear as he stared at all the food still in front of him. Sigh after satisfied sigh escaped from his lips. He seemed to just be savoring every eyeful of such a feast.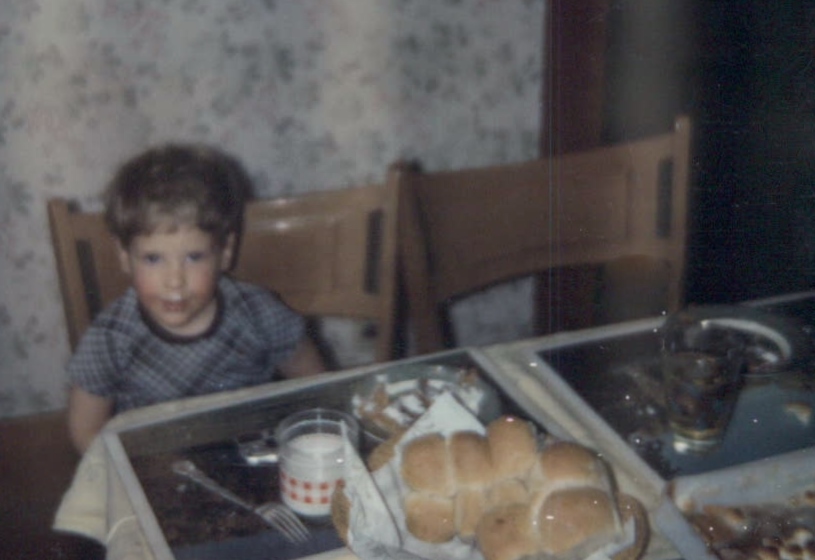 I'm forever grateful for those 2-1/2-years when I experienced this happy-go-lucky daredevil little boy. I know he's in heaven, but I always miss him especially this time of year. I'm also grateful that my son Scott stayed with me to watch out for me on earth while Erik is far away.
Here's the poem I published in my Pastiche of Poetry book, Volume II
Thanksgiving 1974
Erik sat at the end
of the six-foot dining table addition.
Whipped cream was out of tongue reach
on his chubby cheek.
–
His two-year-old eyes
catalogued all the dishes:
roasted turkey, mashed potatoes,
cranberry sauce, pumpkin pie.
–
He sighed, took a deep breath,
sighed again and again.
His eyes wanted more.
His tummy was tightly packed.
–
Everyone else finished and left.
He wouldn't, or couldn't, move,
but smiled at the celebration spread,
and sighed and sighed.
I hope you will save all your favorite memories of being with family and friends this year whether you are able to be with them due to COVID-19 or if they have passed into another peaceful place.
Best Wishes!
Rose Klix