by Rose Klix
My parents chose to celebrate Thanksgiving Day with Dad's family. A family member would volunteer to host the event at their home. This required that person to roast the turkey. Others would volunteer for essential items, side dishes and desserts. Of his six siblings, Dad's only brother and four sisters usually lived in Rapid City, South Dakota. This event also included all my available cousins. The host home served dinner around 1:00 pm.
Once I overheard an aunt and cousin discussing the pies they'd brought. One said, "The pumpkin looks like baby diarrhea." The other giggled and said, "My cat licked the meringue on the lemon pie. Don't tell anyone." I didn't eat those pies that year.
Another year, my aunt had volunteered to roast a goose. I looked forward to trying this new dish. Everyone exclaimed they were very hungry, but she hadn't arrived yet. Dad called her phone and said, "Is your goose cooked yet?" That brought giggles. She promised to arrive soon. She did, but the goose meat was quite greasy and no one asked for an encore.
Mom always made her dinner rolls. She thawed out bread dough and let it rise, then punched it down to rise again. She pulled off a piece, rolled it in a ball and shaped it in her fist to be pushed up in the circle between her index finger and thumb. She left them to rise again and then baked them. They were fluffy, often requested, especially when hot at our house.
I longed to eat a turkey drumstick, but often others beat me to them. If she was hostess Mom dried the wishbone for Jim and me to pull apart. Jim usually got the largest half and his wish. I liked cleaning up, because I could sneak a few more nibbles from the dark meat.
Entertainment
 While we finished dinner and dishes, many set up to play penny ante poker. They played a variety of games most of which used wild cards and rules known only to those participants. Once or twice I participated but couldn't keep up with them. Mom and one of Dad's sisters often played Scrabble. They knew words I couldn't spell or define. When Trivia became a popular board game, Mom challenged anyone to play. She could be stumped with the Sports category. When she played for the last points, we chose Sports to continue the game, or another one if we wanted the game to end.
Ol' Yeller played at Elks Theatre every Thanksgiving during my growing up years. It was tradition for us grandchildren. I bought the VHS tape of Ol' Yeller and played it a few times during my adult years. It was a tear jerker. When I was a teenager in 1964, I said to Grandma Rose, "You'd like Elvis Presley. He'd be a wonderful boyfriend for you." She smiled and we all enjoyed "Roustabout."
Favorite Thanksgiving Memory 1973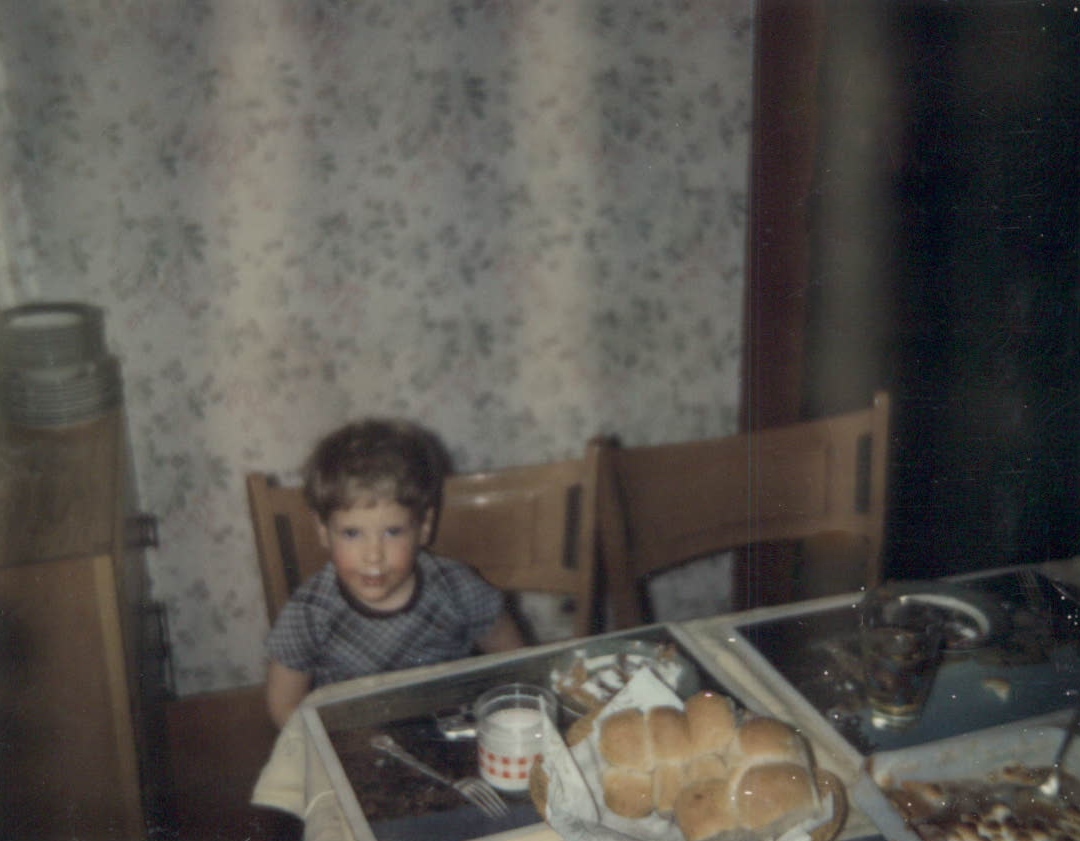 My son Erik was two-and-a-half years old. He loved to eat. We called him Tubby Tiger, because he always was a little paunchy. He sat at one end of a children's table. He'd devoured turkey, stuffing, cranberry sauce, mashed potatoes and gravy, sweet potatoes with marshmallows, seven layer salad, Jell-O with pineapple, and who knows what else. He wiped a smear of whipped cream across his mouth. As I cleared the table I watched him sit and sigh. He'd smile, sigh, and look at the leftover food and sigh again and again. Maybe he thought, "I wish my belly could hold more." Could be he was just satisfied. I'll never know. That was his last Thanksgiving with us.
Mitchell, South Dakota 1976
Just before Thanksgiving my first husband and son Scott moved to Super Center Apartments in Mitchell, South Dakota. I hadn't finished unpacking, but looked in the local newspaper. I read an ad for a farm-raised tom turkey. That sounded like just the right thing for our first Thanksgiving in this semi-rural community. I called the number and arranged for the farmer's wife to deliver to us. When she arrived, the turkey was wrapped in newspapers. Although startled at seeing it transported this way, I paid her for the turkey and refrigerated it. My Betty Crocker cookbook was in one of the dozens of boxes. Mom was not a scratch type of cook. I called the Home Extension Office and asked, "How long do I cook a 20 pound turkey?" She said, "Look at the package." I explained, "It didn't come in a package." I explained the situation to her. She asked another person in the office. I remembered that the directions usually said so many minutes per pound, but neither one of them knew the answer to the formula. I called Mom and explained my dilemma. She said she would call my aunt who was roasting the turkey that Thanksgiving. She called back with the minutes per pound and oven temperature from my aunt's turkey package. I successfully roasted our turkey and we enjoyed our meal.
Greece 1991
I accompanied my ex-husband to be stationed at Iraklion Air Station, Crete, Greece. I'd yelled into the poor connection telephone booth to wish my parents a happy holiday. I missed them most during holiday celebrations. We made reservations for the Thanksgiving Feast. The Officer's Club was beautifully decorated with fall colored streamers, mums in the vases, holiday tablecloth and napkins. We served ourselves at the buffet table to all the traditional holiday dishes. We sat at a table spread for just the two of us. Tears tumbled from my eyes. I'd never been so lonely before.
We'd made friends with the young man who managed the butcher shop next door to us. I'd bought a can of pumpkin and a frozen pie crust. I made a pumpkin pie and presented it to him. He didn't know what pumpkins were. I learned pumpkins are not a normal vegetable grown or eaten in Greece. I explained to him and his sister who was visiting his shop that this was our traditional Thanksgiving dessert. Instead of taking the pie home, he and his sister dug in to eat it with their fingers. They loved it and she asked for the recipe. I explained I followed the directions on the can label. I didn't promise to buy them a can at the commissary. But I enjoyed sharing the pie with them.
Glen Burnie, Maryland 1998
My parents traveled from South Dakota to our home in Maryland. I proudly spread the table with all the traditional Thanksgiving fixings. I felt it was my thank you present to show appreciation to my parents and to introduce my soon to be husband our traditional holiday. I slightly modified the menu to include Tofurkey, because he'd convinced me that vegan was a healthier diet with this soy based product. We toasted with apple cider and enjoyed the company.
Morristown, Tennessee 2014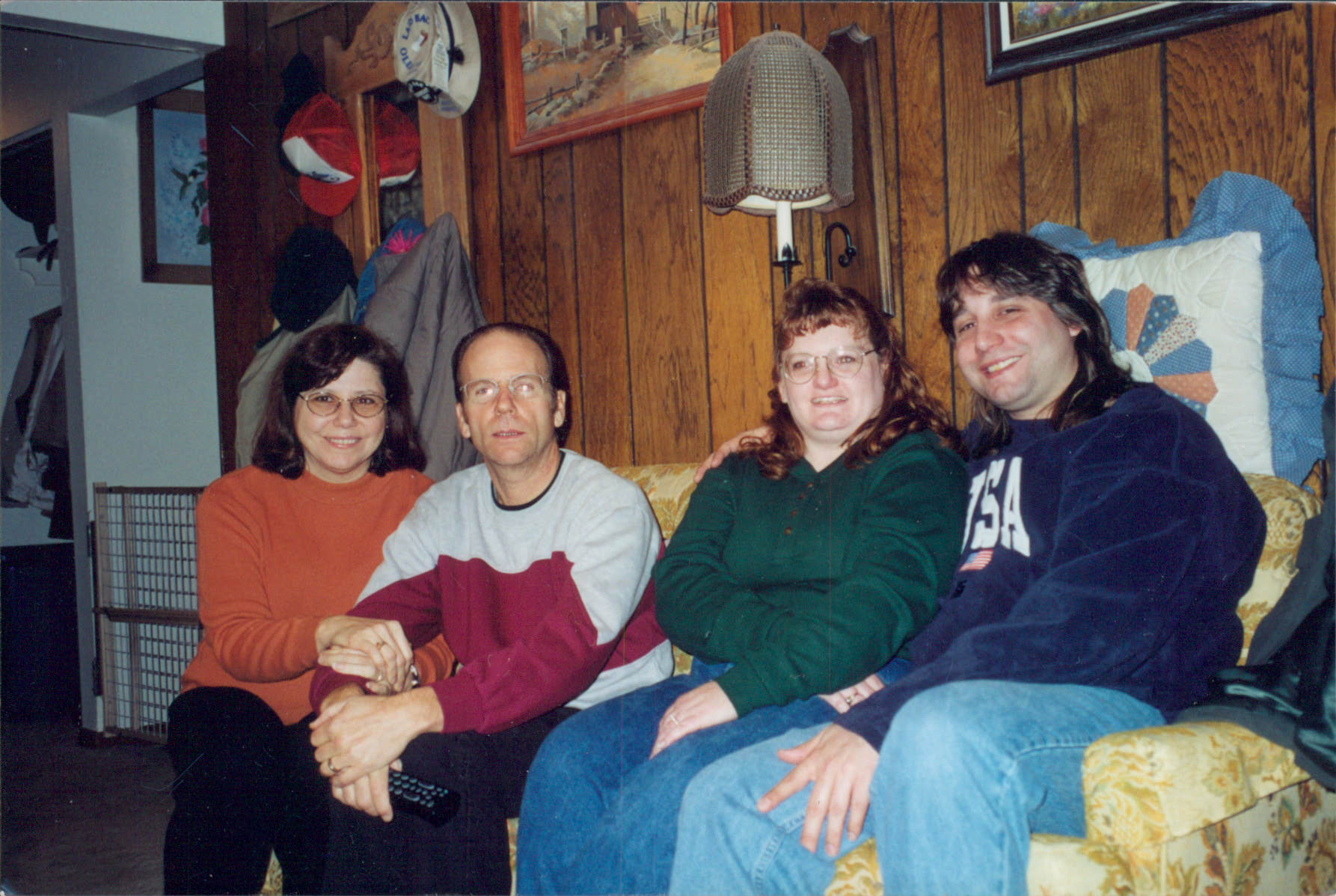 I miss seeing all my relatives, many of whom have passed away. This year I looked forward to sharing the festivity with my son Scott and his wife. At least we now live in the same state. No one will need to drive the two hours we are apart. We decided on meeting about halfway at an O'Charley's restaurant. I looked forward to a turkey dinner and maybe pecan pie. We're making new traditions about eating out for the holiday – less: work, leftovers, and clean-up. I'm still thankful for all our blessings of food and family (not in that order).
Happy Thanksgiving to You – Don't get as stuffed as the turkey!