By Rose Klix
Anyone acquainted with me knows I hate Halloween. Grandma Swinehart said, "Too strong a word for a young lady." Sorry, Grandma, but I still dislike Halloween. The commercialism is maybe even more ridiculous than Christmastime with all the decorations, flags, orange lights, imitation spider webs, costumes, tons of candy, and rotting toothless pumpkins (which caused a shortage of canned pumpkin). The movies and TV shows try to scare us or poke fun at Fright Night.
We train children to extort sweets as a favor for not pulling a trick on us. History forgot the original meaning for All Hallow's Eve. I'm surprised churches embrace another pagan holiday. I say let community Trunk or Treat events take over, keep kids safe from going door to door, less disruptive for us residents and the protective barking dogs. Parents should be concerned about strangers' influences on their children's sweet tooth cravings. Should civic leaders dare legislate foolishness?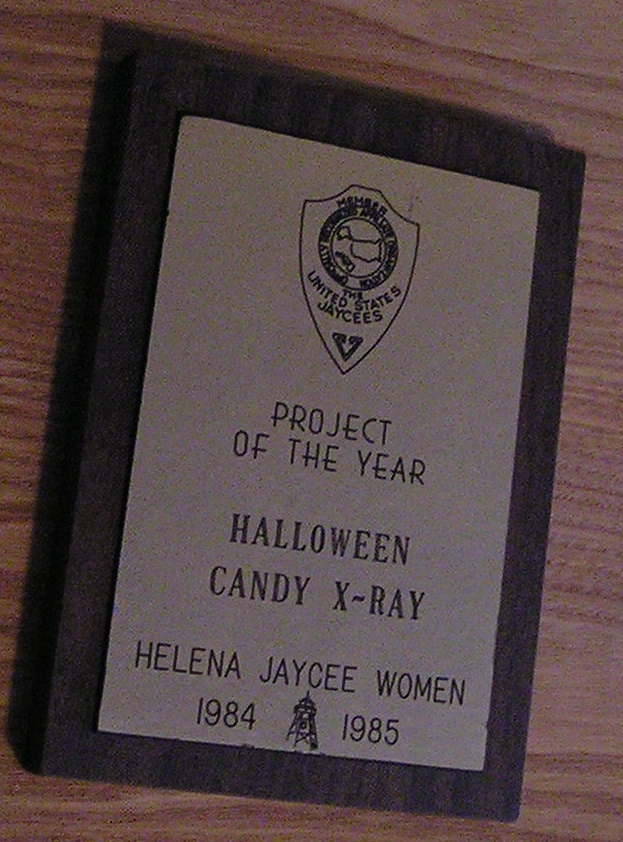 However, in the 1980s as a Jaycee Woman in Montana, I hatched an idea to make the holiday a little safer. The news reported vicious people put metal objects, like razorblades or needles, in apples or popcorn balls to cut mouths. I obtained permission from the airport authorities. My proposal encouraged parents to take their children's haul to the x-ray machine. Several families used this service. None of the treats contained metal. Our Helena chapter received a plaque from the state Jaycee Women organization for a successful Project of the Year. After 9/11 I'm sure TSA won't agree to this project. Last night's news claimed this as an urban myth; no one had been harmed in such a manner.
As a child in the late 50s, I admit I collected my share of treats, wore a mask or disguise and ate a lot of my cavity causing loot. From imagination and a lack of money, Mom created our getups. She used cigarette ashes to make Jim grizzled whiskers like a hobo or wrapped him in gauze as a mummy. She granted my wish to be a fairy princess complete with aluminum foil crown and wand. Jim pretended to be a cowboy and shot his toy gun.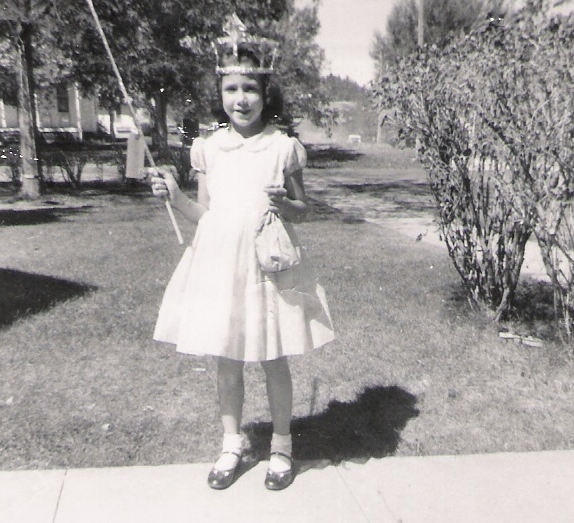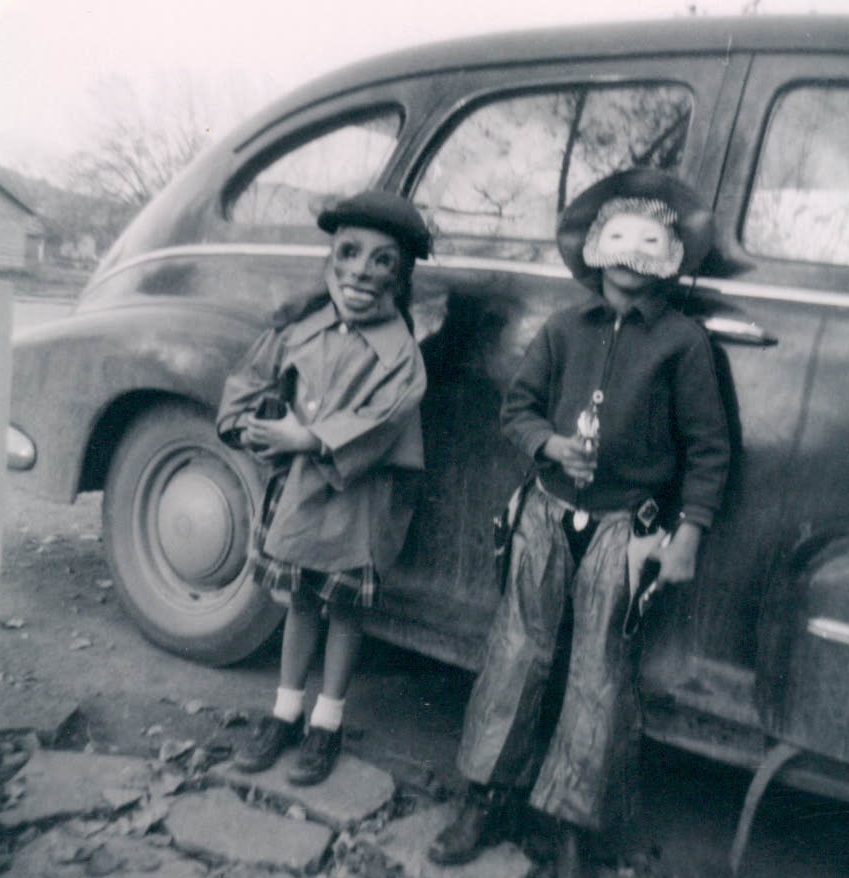 Teenagers Jim and I belonged to our church's youth group. He volunteered to help for the First Congregational Church haunted house. Curious, but afraid of where dead people lay, I walked with him to a neighborhood mortuary. He asked for boxes. The mortician smiled and agreed to deliver several. Jim thought up a cool idea to make a tunnel for kids to crawl through into the fellowship room. Of course, they looked like cardboard boxes and spoiled his spook effect. No one, but Jim, thought about the containers originally held coffins. At the party, the chaperones blindfolded us and said to touch the icky eyeballs (grapes) and squishy intestines (wet spaghetti). We socialized and ate cupcakes, cookies, and punch. I never liked haunted houses. Hayride events were okay unless too cold or scare factors modified the atmosphere. Spooky ghost stories produced nightmares. Not fun. I wore a cross to bed to ward of vampires.
My son Scott enjoyed trick or treating many times. In 1978, when he was seven years old, we used our camping trailer as a temporary home. We barely arrived in Mitchell, South Dakota and didn't know anybody. I forbade him from going door to door. Instead I bought some chocolate bars, encouraged him to walk outside, and march around the trailer. He knocked on the door and said, "Trick or treat." I dropped goodies in his plastic pumpkin. He repeated several times until bored with the exercise. Now he and his wife Kim love Halloween. She grew up near Salem, Massachusetts and embraces the concept of all the witches, ghosts, and goblin stories. Perhaps an artistic spirit feeds her imagination.
In the 1990s, I worked at Ellsworth Air Force Base. A co-worker invited us to his wife's house party. I bought a flimsy female red devil outfit. My husband dressed as the Grim Reaper. The host wore his Air Force uniform long coat. His costume included a flesh-toned body suit. I don't think he realized his guests saw his cheek bottom from the open split pleat in the back. He had stuffed a nylon stocking and fashioned a gigantic male extremity which dangled between his legs. When he opened his coat and flashed us, we viewed a much different side of this sergeant.
When I sold Tupperware in the 1970s, my manager held a party. She offered extras to anyone who colored their hair green. I sprayed dry powder in my dark hair. Color appeared by the part line. She gave out the points but skipped me. I protested and showed her my scalp. She relented. I stood up for the principle and brushed out the dye.
I've not bought a dog outfit for the occasion, but my grand-puppy played dress up this year. Their kitten would prefer to ignore clothing as a waste of money better spent on cat food. TV news stated pet costumes are a growing industry and much encouraged at pet stores. In fact this holiday helps both the US and Chinese economies for several billion dollars.
I dreaded last night's doorbell for our first Halloween in Knoxville, Tennessee. Our neighbor lady said, "You'll be mobbed by neighborhood kids. Also expect many driven in from other areas." We stocked up on more bags of commercial sugary edibles. I remembered our previous neighborhood where a child told us to expect fifty kids. Not one showed up! But we lived on a heavy traffic street. Even that child went to a church event instead.
The rain discouraged some activity, but we greeted plenty of polite gaily dressed children and their escorts between 5:30 and 8:45 pm. My husband watched out the window to answer the door before they rang and irritated me further. Some ran between raindrops and others waited to go out a bit later. My neighbor found out many avoided the rain by reveling at the mall. Another neighbor didn't turn on his porch light. At least my husband kept us from being anti-social.
Perhaps Halloween serves as a diversion from reality with a chance to imagine yourself as a superhero. I hope you endured a safe holiday – or maybe you enjoyed all the mayhem and candy corn. Happy Halloween! Do you know today is All Saint's Day?
HALLOWEEN SCARE*
by Rose Klix
Halloween candy,
a dietary scare.
See this sweet?
Leftover candy corn
lasts forever.
*reprinted from Eat, Diet, Repeat poetry chapbook
Visit www.RoseKlix.com.